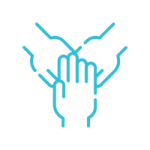 For effective conservation, it is crucial to work together with the inhabitants and institutions present in the territory. MERI is involved with the communities mainly through scientific dissemination, environmental education, and cultural outreach activities, as well as project collaboration led by the public, private, or civil sectors.
Science outreach activities include lectures, seminars, webinars, workshops, talks, interviews in the media, among others, with the intention of contributing to the democratization of science, so that it is available to everyone.
MERI's environmental education activities are focused on workshops and training aimed at key stakeholders in the community, public sectors, and families, in order to empower everyone to be agents of change for the conservation of their territories.
In the field of cultural outreach, MERI has carried out several projects and activities that bring science and environmental education to audiences of all ages, through art and culture. Cultural activities include exhibitions, books, documentaries, recordings, transdisciplinary discussions, among others, as well as collaboration in various cultural projects, always with the objective of reaching the widest range of audiences from the universal language of art and culture.