Learn in a natural way
with TerritoriAR!
Meet the territories where you can find its biodiversity and bond with nature.
TerritoriAR was born thanks to an Explora Program CONICYT (now ANID), for the Assessment and Dissemination of Science and Technology 2018-2019, developed by the Caserta Foundation in association with the MERI Foundation and the Puribeter, Likandes and Melimoyu Elemental Reserves, natural laboratories for effective conservation and mitigation of Climate Change.
TerritoriIAR is based on the need to show the multiple ecosystems that inhabit Chile, in order to promote their conservation. We want to bring the community closer to the emblematic territories of our country, facilitating the development of experiences in nature, in an inclusive and informed manner.
For this, TerritoriAR allows the geolocation of trails, geological landmarks, relevant species of flora and fauna, while highlighting the value of interculturality, through multimedia capsules of Augmented Reality and an attractive display of downloadable information; in addition to experiential in the territory with non-invasive signage on the trails.
Likewise, it has an educational line to be used in the classroom or at home, which invites to link the App with the subjects of the education curriculum thanks to activities defined for different school stages and ages.
We are the largest green lung in Santiago with more than 700 hectares, which ranks it as the fourth largest urban park in the world. In our extensive green areas you can find culture, recreation, environmental education and sports, all in permanent contact with nature. We are in the center of Santiago, covering the communes of Huechuraba, Providencia, Recoleta and Vitacura. In addition, we manage, take care and conserve 20 parks distributed in 15 communes that belong to the Urban Parks network, further expanding our work of
· Social integrator.
· Promoter of a healthy life and family.
· Being a reference in environmental education issues.
· Conserve native flora and fauna.
· Cultural manager.
· Outdoor sports center.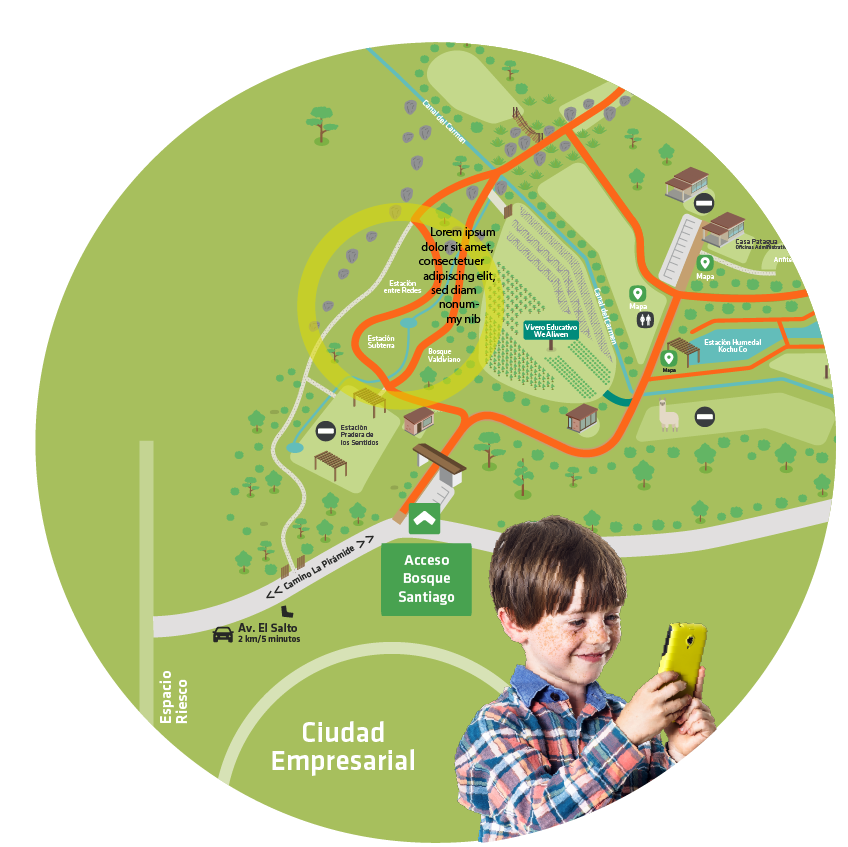 From the Apple Store, for IOS, and the Play Store, for Android devices, download the TerritoriAR application for free. Install it on your cell phone and start learning and appreciating the biodiversity of our country.